▷ What to do on Christmas Day in New York City

Visiting New York City for Christmas is the guarantee of a magical stay. Because holidays celebrations are very important in the United States! For this occasion, New York City displays its finest decorations and offers a lot of special activities. But it's not necessarily easy to plan your Christmas day in a city like New York.
Even in the city that never sleeps, many attractions close their doors on this day. So I would like to invite you today in a tour of all the activities that are possible on Christmas Day in NYC! Because it would be a shame to waste time by planning closed activities. You can discover at first some suggestions of activities to spend an unforgettable Christmas day in NYC but also check at the end of the article the list of the main activities which remain closed on Christmas day 🙂
Activities to do on Christmas Day in New York City
To make the most of your time there, here is a selection of recommended activities for Christmas Day: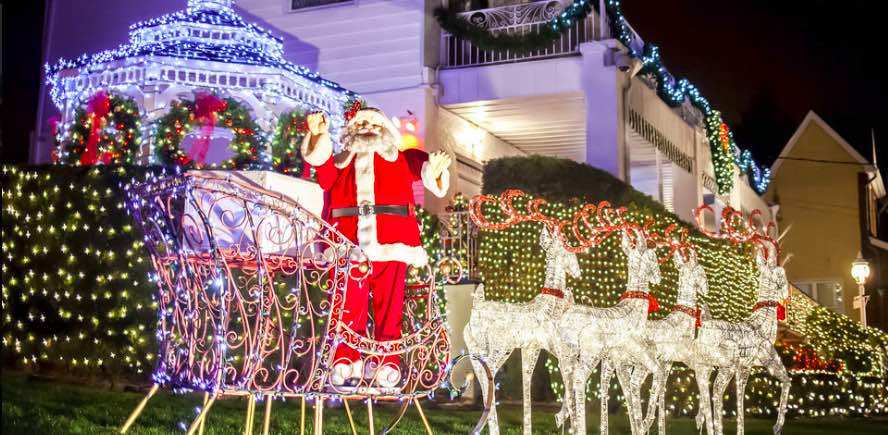 What better time to visit this iconic neighbourhood than on Christmas Day? Indeed, Dyker Heights is a Brooklyn neighborhood known for its outstanding Christmas decorations. Streets, houses, gardens… the whole neighborhood is illuminated with thousands lights. And good news: it is possible to schedule a tour on December 25th!
Departure is at the end of the day from downtown Manhattan. The trip to Brooklyn is then done by bus.
More information on Dyker Heights tours
The Rockettes' show at Radio City Music Hall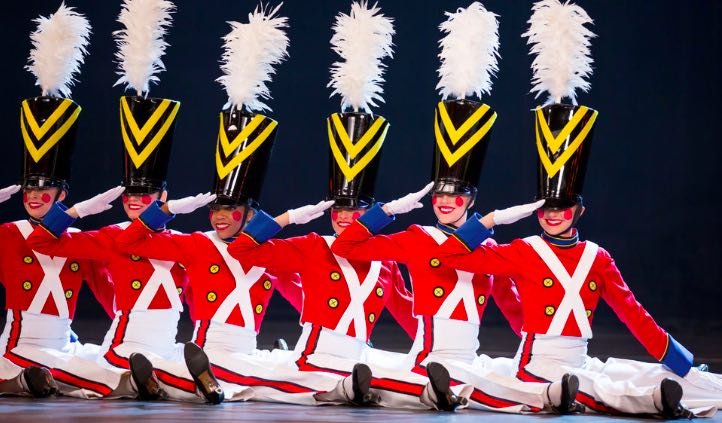 Probably one of the oldest Christmas traditions in New York! The Rockettes show at Radio City Music Hall has been performed since… 1932! Called "Christmas Spectacular", the show consists of dances and costumed scenes, all on the theme of Christmas. A magical moment for children and adults too. Beware, tickets for the Christmas Day show are quickly sold out, so it is recommended to book very early!
See availabilities for Christmas Spectacular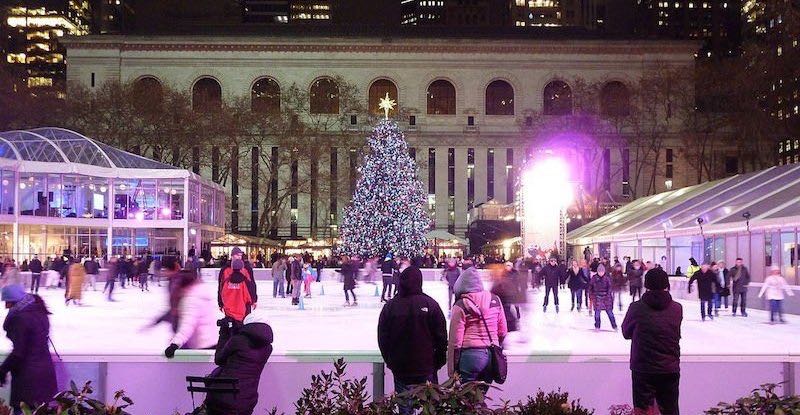 A must during a winter trip to New York City: ice rinks are a great place to enjoy all the holiday magic. The most famous (and busiest!) are the ones in Rockefeller Center, Bryant Park and Central Park (Wollman Rink). Open on Christmas Day, it is a perfect activity to spend a happy moment followed by a delicious hot chocolate with whipped cream 🙂
Visiting Madame Tussauds (the wax museum)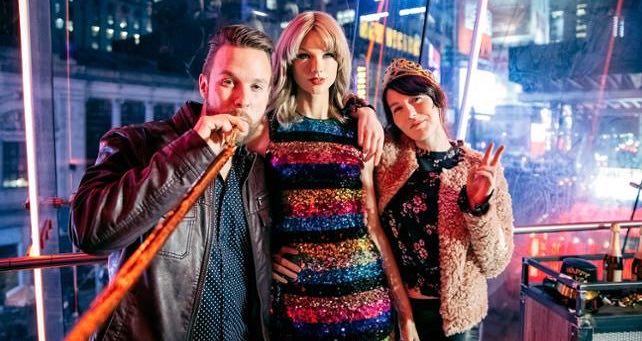 One of the few museums open in NYC on Christmas Day! And let's be honest, if the weather is not nice that day (or too cold), this is a perfect place to spend a good time among celebrities! A very funny activity to do with your family.
More info on Madame Tussauds wax museum
Go to a basketball or hockey game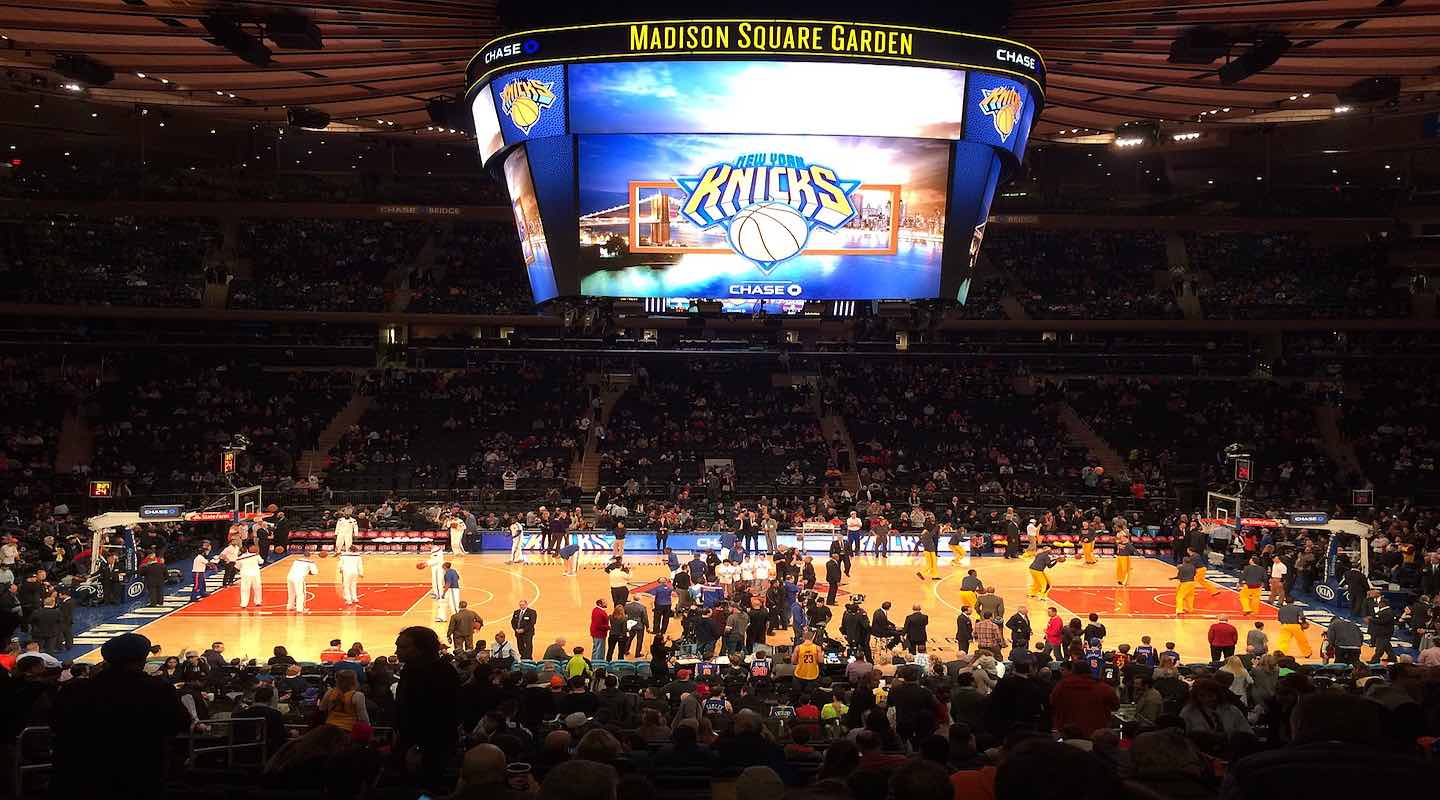 Because the NBA and NHL never stop, even on holidays, and even on Christmas Day! Why not take a look at the games scheduled during your stay? Maybe it will be possible to support the Knicks, the Nets or the Rangers… If, like me, you are not from the United States and you have never been to a game, you will probably enjoy this show!
The atmosphere is always great and it's a fantastic time to share with your loved ones. If you are planning to go to a game, it is recommended to book as soon as possible. Because the prices of holiday matches can quickly become very high!
See dates and availability for the NY Knicks
See dates and availability for the Brooklyn Nets
See dates and availability for the NY Rangers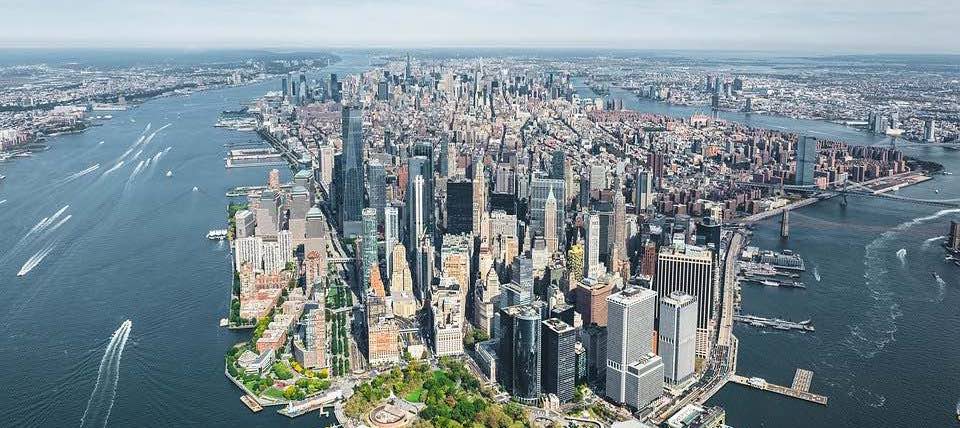 An unusual and breathtaking activity for a Christmas day! But also a very nice Christmas gift! Helicopters leave from the heliport located in the south of Manhattan and make a loop all along the Manhattan coast depending on the flight time selected.
On the program: a majestic view of the entire skyline, of the emblematic buildings (Empire State building, Chrysler building, One World Trade Center…) but also of the Statue of Liberty, Central Park etc…
More info on helicopter flights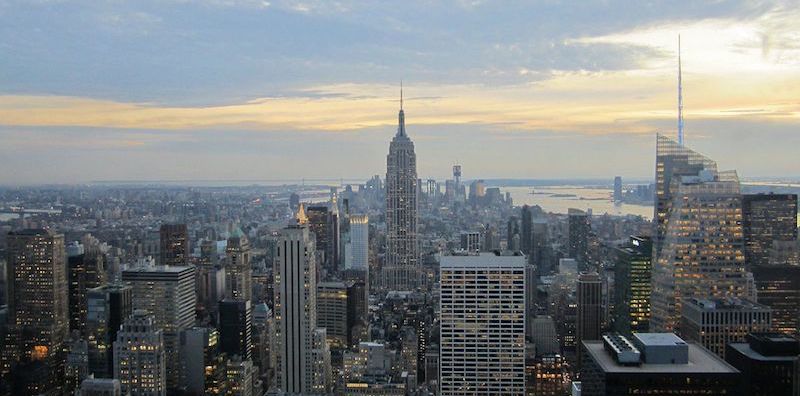 One of the most popular activities in New York on this day! Observatories have the particularity to be open 365 days a year (weather permitting). But beware, you will be far from being the only one(s) to have this idea! A number of other major attractions are closed on this day, so you should expect to be surrounded by a lot of people.
➜ Good to know: It is possible to access the observatories by using tourist passes available in NYC (New York City Pass, Explorer Pass, New York Pass, Sightseeing Pass etc…). By combining the admission of several activities, they allow you to get great discounts (-20 to -50%) on the total price of all activities.
Otherwise, it is also possible to opt for single entry tickets, to be booked well in advance if you plan to go up on Christmas Day! Here are the different observatories you can go up to in New York right now: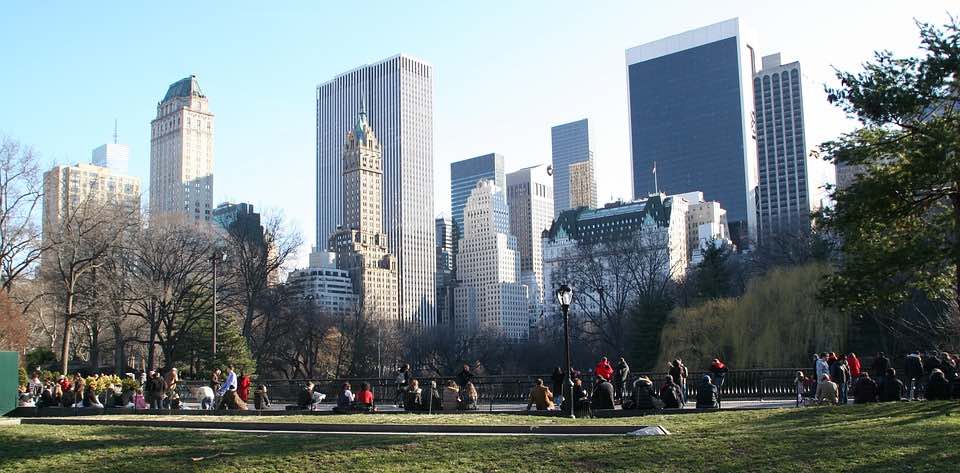 Probably one of the most beautiful parks in the world and one of my favorite places in NYC! t's impossible to visit the city without going through its famous green heart. You may not know it yet but Central Park is full of activities and unique places to discover. Walking, biking, skating rink, carousel, mini-castle, boats, great views of the skyline, you just can't get bored in Central Park!
You might be interested in :
➜ Central Park : What you shouldn't miss (activities + landmarks)
Take a ride on the Staten Island Ferry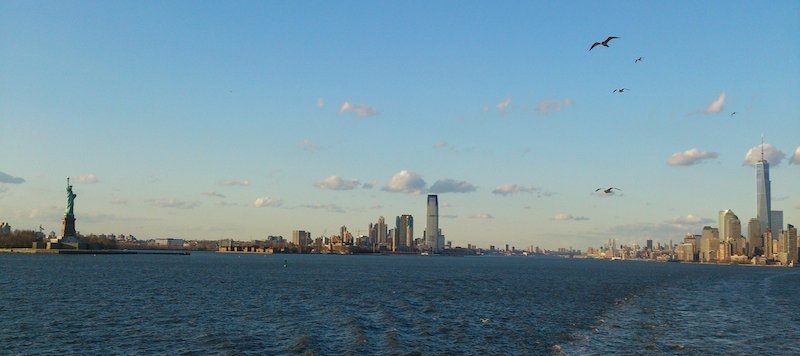 An iconic free activity in New York City! Boarding the Staten Island Ferry means you can enjoy some of New York's most beautiful views without paying a cent. The ferry runs 24 hours a day, 365 days a year between lower Manhattan and Staten Island (one of NYC's largest boroughs).
During the cruise, you can enjoy a wonderful view of the skyline and the Statue of Liberty. Once arrived at Staten Island, you can immediately board for the return trip to Manhattan. or discover the neighborhood. A nice excursion to do at any time of the day or night.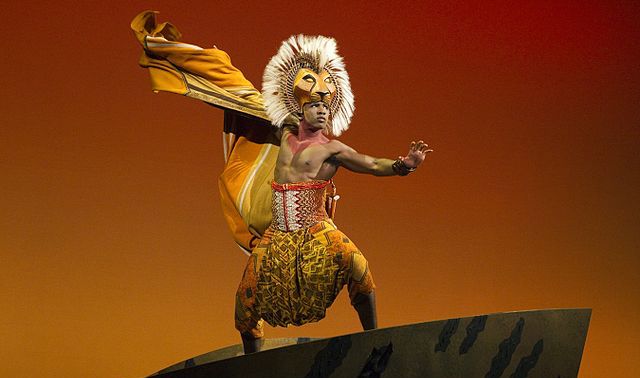 Because Broadway never stops, not even on Christmas Day! It is therefore quite possible to see a musical on December 25th, during the day or in the evening. But be careful, as always for events taking place on that day, it is important to book as soon as possible to be sure to have a place!
Whether it's a trip with adults or a family trip with children, there is certainly a musical for you! Children will easily be amazed by The Lion King or Aladdin, while adults may prefer The Phantom of the Opera or Chicago.
➜ Good to know: The 9/11 Museum and Memorial are also open in NYC on December 25.
Shopping on Christmas Day : what you need to know
There is no general rule about opened stores in NYC on Christmas Day. Opening or closing is left to the discretion of managers and directors. So it is possible that some locations of the same brand may be open and others not, depending on the neighborhood.
Likewise, small independent stores may be open while big chain stores are not. For shopping on Christmas Day, it will be a surprise as you move around the city! Of course, you are more likely to find stores open in the most popular neighborhoods (Times Square, 5th Avenue…) than in the outlying areas.
Attractions and museums closed for Christmas Day in New York City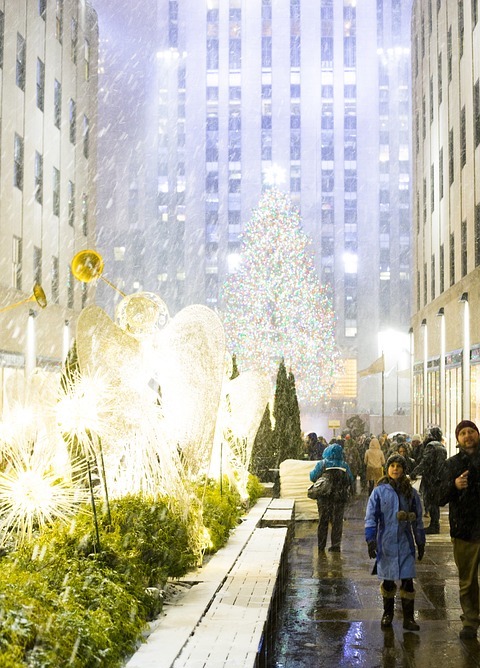 To avoid organizational mistakes, here is a small (but not exhaustive) list of iconic activities that are closed in New York City on December 25:
➜ Statue of Liberty and Ellis Island
➜ The MET (Metropolitan Museum of Art)
➜ The Museum of Natural History
➜ The MOMA
➜ The Guggenheim Museum
➜ Circle Line Cruises
____________
That's it! You know everything to organize your Christmas Day in New York City! Even if the city probably seem a bit quieter on that day, the possibilities of activities remain varied. Depending on the weather, we can also dress warmly and discover the different neighborhoods or emblematic landmarks of the city. Why not a tour of the most beautiful buildings of the city? If you still have questions, don't be afraid to ask them in the comments 🙂
You might be interested in :