Visiting Central Park: a guide for best places and things to do

Discovering Central Park is one of the emblematic activities of a first trip to New York City. After several trips to NYC, nothing can replace a long walk in the park or a sunbathing afternoon in this beautiful environment. But Central Park is not just a pretty park. It is also full of activities, for the whole family! So if you're looking for information about the must-see places and things to do in Central Park, you've come to the right place 🙂
You'll find all mut-see activities and places in the map at the end of the article!
Places to see in Central Park
Bethesda Fountain & Bethesda Terrace
It is probably the place that is most often seen in movies or TV series. This huge fountain is a popular meeting place for many New Yorkers. At the end of the afternoon, the atmosphere is particularly bucolic and relaxing. It is also a very romantic place for couples : we often see proposals or wedding photo shoots! Don't miss the arcades near the fountain, the decoration is gorgeous and you can take some very nice pictures.
This stunning tree-lined driveway also appears in many NYC movies. On sunny days, there are many street performers, ice cream sellers, musicians… It's a very pleasant place to rest on a bench in the shade of the trees.
Probably one of my favorite places in Central Park! Sheep Meadow is a huge stretch of grass with a breathtaking view of Midtown buildings. On sunny days, many New Yorkers come to picnic, sunbathe, read or just having a rest. Be warned, on weekends (especially on Sundays), there are many (many!) people.
This pretty little castle is located approximately in the middle of Central Park. From the castle, you have a beautiful view over the park, the Turtle Pond and the city's buildings. The park is starting to be a little quieter: fewer people, less noisy, it's very relaxing! If you look around you, you may see raccoons in this area! Right next to Belvedere Castle, don't miss the magnificent flowers of the Shakespeare Garden, the Swedish Cottage Marionette Theatre and the Delacorte Theater that hosts the "Shakespeare in the park" festival (schedule and opening hours available on the Central Park website).
Jacqueline Kennedy Reservoir
It is THE meeting point for Central Park joggers! It also often appears in movies and series. But walkers are also welcome as long as they respect the running direction (counterclockwise). All around the reservoir, you can take beautiful pictures of the city.
North of Central Park, a small French garden: straight alleys, cut boxwood, colourful flowers, statues, fountains… A really French atmosphere in the New York City's largest park!
The memorial dedicated to the memory of the famous John Lennon.
How to discover Central Park easily?
The best and fastest way to discover Central Park (without getting lost!) is to choose a guided tour.
Several kinds of visits are proposed:
Pedicab tours in Central Park
Less expensive than horse carriage, pedicab is the new favorite tourist's activity. Be careful, prices are not the same, each pedicab have their own prices. To save money, the best way is to book online : prices are fixed before and you can choose for a ride of one or two hours.
More information about pedicab tours (1 hour)
More information about pedicab tours (2 hours)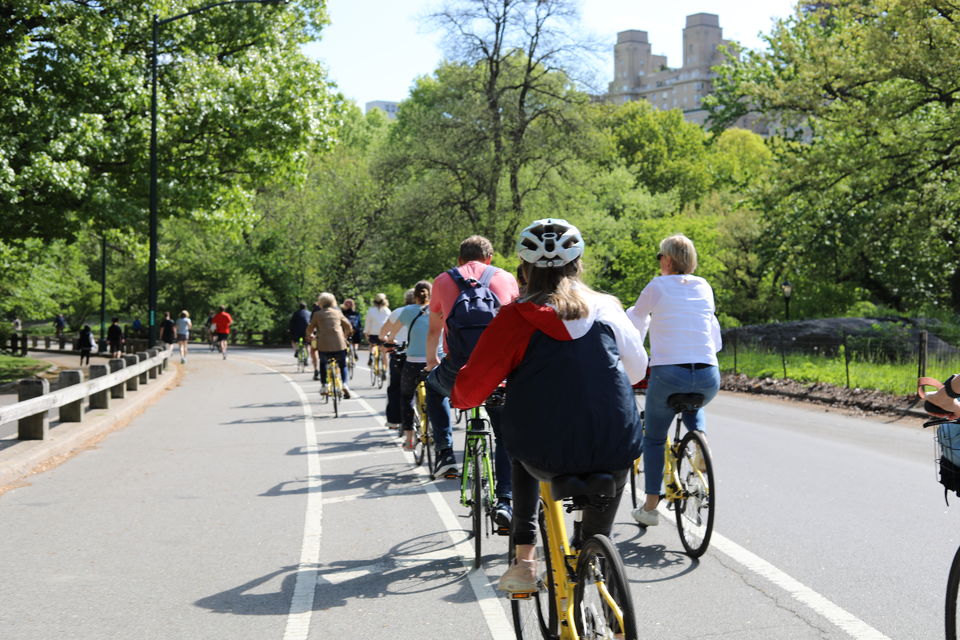 During two hours, a guide will bring you to discover the main iconic places of the park. You can also see filming locations and learn more about the history of the park.
More information about walking tours
Central Park sightseeing bike tours
Let's riding for a 2 hours tour in central park with comments of your guide.
More information about bike tours
Things to do in Central Park
Wollman Rink & Lasker Rink
Not to be missed during winter months! The view from the Wollman rink is just stunning: nothing's better than skating in front of Midtown buildings! But, this is a very touristic place. To avoid skating among the crowd, Lasker rink is a quiter place. Be careful, both rinks are not always open to the public, some hours are reserved for private sessions.
Useful links: wollmanskatingrink.com ; laskerrink.com ; lasker pool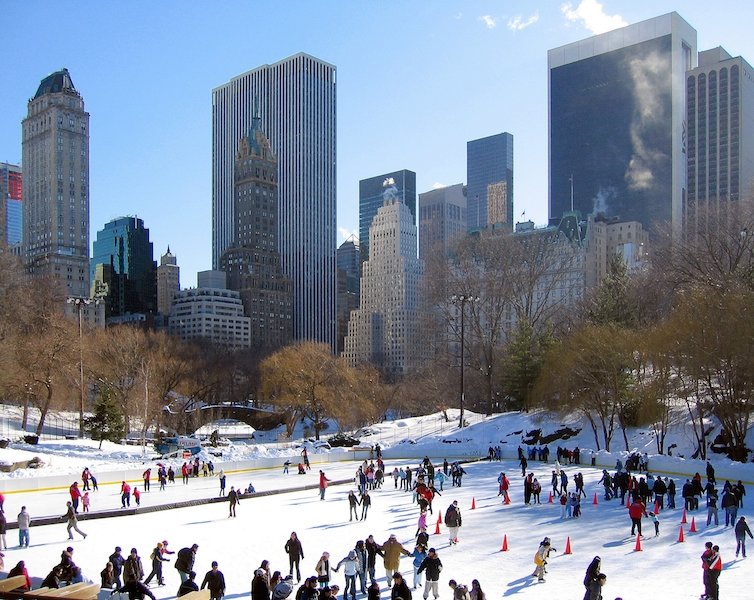 A good activity for toddlers and children. For zoos lovers, a bigger one is located in the Bronx. In the little zoo of Central Park, your kids will be surprised to see brown bears, sea lions and leopard in the heart of Manhattan.
Useful link: centralparkzoo.com
Good to do if you have children or if you are still a child in your mind! The carousel is located inside a red brick building. For only $3.25 you can go back to childhood or having fun with your kids 🙂
Useful link: Carrousel Central Park
This bar and restaurant is THE place where you can rent the famous boats of Central Park. You could also enjoy a gondola ride on the lake. But, if you are not a big fan of water activities, it's possible to rent bicycles too. In short, the Loeb Boathouse is a must place for anyone who wants to discover the Park's must-see attractions.
Useful link: thecentralparkboathouse.com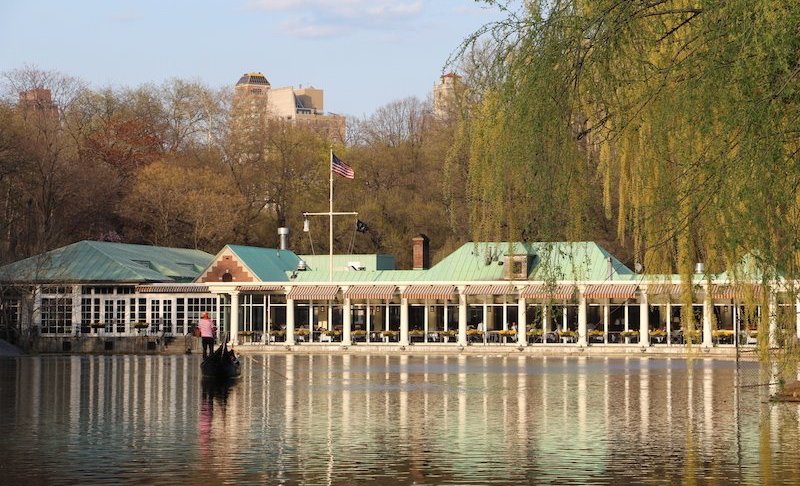 An activity you may have seen in TV series or movies. Take the control of a little model sailboat in a huge pond near the Upper East Side. If you are nostalgic of your childhood, this activity is done for you. Close to the lake, a statue of Alice in wonderland waits you to have her a hello!
Useful link: sailthepark.com
Now, you are ready to visit Central Park ! As you can see, you need more than just one walk in the park to discover it. Moreover, if you are lucky, you could see litlle residents of the park (birds, raccoons, squirrels…). All I have to do now is wish you good walks 🙂
Central Park attractions map