The complete New York City subway guide for beginners

♢
If you are planning to go to NYC soon, then you have an important question to ask yourself! Do you know how the NYC subway works? If so, you're very lucky. If not, you're going to have some work to do! Because the New York subway is not really easy to use. Let me tell you a little anecdote….. After dropping off our luggage at the hotel on our first trip, we wanted to go to Times Square to fully immerse ourselves in the NYC vibes. We took the subway and…
From Chelsea, we visited all of southern Manhattan to Chinatown, before heading back in the right direction towards Times Square! So, to avoid wasting time while riding the subway, I suggest you to discover this special NYC subway guide! You will find the main operating rules as well as some useful tips to avoid the pitfalls 🙂
Riding the New York City subway : some rules to remember
➜ To identify the subway lines, we do not use the terminus station but the running direction (Uptown or Downtown).
Uptown is indicated for lines going towards Upper Manhattan, the Bronx and Queens. Downtown is indicated for lines going towards Lower Manhattan and Brooklyn.
➜ The subway station you are entering doesn't necessarily serve both directions.
Sometimes, you find a station for one direction (Uptown) and the other station across the street for the other direction (Downtown). There are also stations that serve both directions. In any case, this information is mentioned at the entrance of subway stations.
➜ Several subway lines run on the same platform.
This is the most common mistake! Remember to look at the subway number or letter when entering the platform to make sure that you get in the right one! Otherwise, you may run in the wrong way.
➜ Subways do not necessarily stop at all the stations they are supposed to serve.
I know, it's getting a little bit complicated! Each line is served by two types of trains :
The local train which stops at all stations of the subway line.
The express train which only stops at the main stations of the subway line.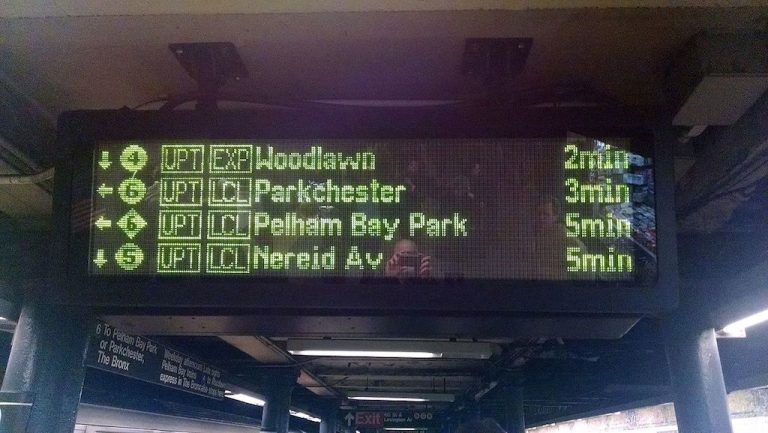 In general, there are more local trains than express trains, but don't forget to pay attention to this detail! Express train is therefore faster than local train but you have to be sure it'll stop at the station you want to go to.
To identify express trains and local trains :
When entering the platform, a soundtrack informs passengers whether it is a local or an express train.
The information is also visible on the display screens located on the platforms.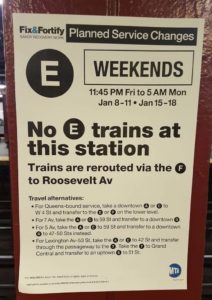 To identify them easily on the subway map, stations served by express trains are displayed with a white spot and stations served by local trains with a black spot.
➜ During weekends, many subway lines are modified.
These changes affect both schedules and itineraries. It is not uncommon for some lines not to serve certain stations on weekends.Temporary line modifications are mentioned at stations and on platforms with posters (unfortunately not really visible!). If you notice a white poster filled with black text and the logo of some subway lines, I advise you to read it!
Are you ready to take the subway in NYC ?
Let's check now if you have remembered these few rules 🙂
What information is displayed here ?

We will probably access two platforms:
A first platform that serves A, C, B & D lines in the downtown direction.
A second platform that serves the 1 line in the uptown direction.
If you have to take the A line, remember to check the train you are getting on! Don't forget that there are 3 other lines on this platform! Don't either forget to check if it is an express or a local train.
NYC subway map
Honestly, it takes a few training trips to master the New York subway and not just enter the first subway! But once you understand how it works, the NYC metro is particularly effective. Take a look at the plan and see how many lines are in circulation!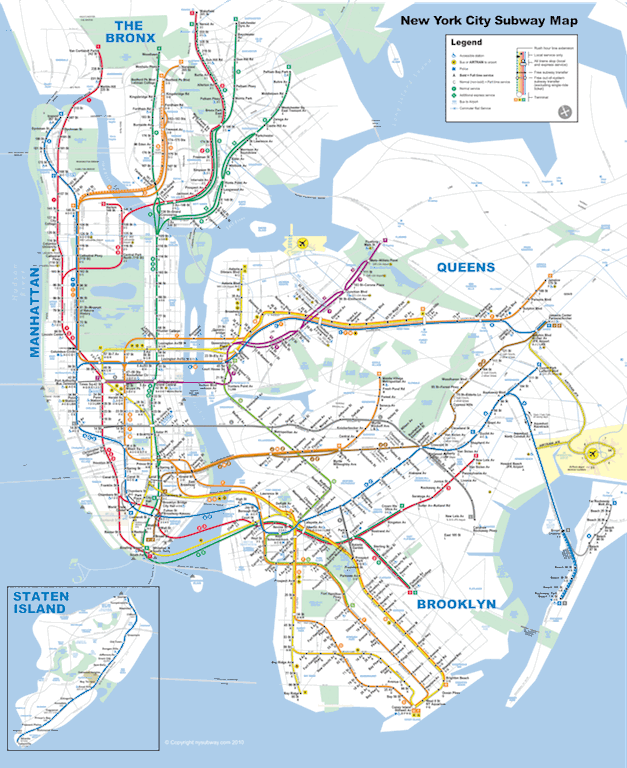 Perhaps the only disadvantage is the lack of east/west connections in Manhattan. Sometimes you have to walk a bit or make a detour by subway to reach your destination. Wheelchair accessible stations are mentioned on the map with the

 icon.
There is also nothing to say about subway safety: even at the quietest hours of the night, the lines running in Manhattan are generally safe. During the day, some large stations are under police surveillance. Of course, as in all big cities, beware of pickpockets who can be anywhere!
Finally, while the overall aspect of the subway network is quite old, there is nevertheless wifi access in a very large number of stations.
Metrocards and fares
Subway tickets are called metrocards in New York City.
Where to buy tickets? Metrocards can be purchased at ticket offices and distributors in metro stations.
What are the different Metrocards? The standard ticket purchased by most tourists in New York is the 7-Day Unlimited Ride (or more if you stay longer).
Single Ride Ticket
$3.00
7-Day Unlimited Ride
$32.00
30-Day Unlimited Ride
$121.00
Reduced Fares (apply to seniors 65 or older and customers with disabilities)
7-Day Unlimited Ride : $16.00

30-Day Unlimited Ride : $60.50
Trip planner and schedules
If you need some help to plan your subway trips, the TripPlanner tool is made for you. Enter the starting point and the point of arrival and it will tell you what to do!
New York City's subway schedule is extremely flexible: it never stops and runs 24 hours a day! In other words, if you go out late at night, you can return to the hotel at any time! Be careful: there are fewer trains at night than during the day, so travel times can be extended.
Useful links
➜ Website : Metropolitan Transportation Authority (MTA)
➜ App : New York Subway MTA Map (App Store)