New York City neighborhoods guide: all you need to know

♢
New York is a huge city and it is not easy to find your way through the many neighborhoods! When you organize your trip, you are faced with a lot of geographical questions: What is the best neighbourhood to stay in? Which neighbourhoods should be explored?
It is not easy to answer these questions when you have never visited NYC! So today we're going to learn a little about the different neighborhoods in New York City. What are the most dynamic neighbourhoods? The most festive? The ones where we find the best food? I'll tell you everything I know!
New York City boroughs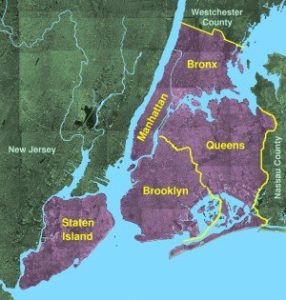 The city is first divided into 5 large districts, so huge that they could almost be considered as cities. These 5 boroughs are:
Manhattan
Brooklyn
Queens
The Bronx
Staten Island
Due to time constraints, it will probably not be possible to visit the 5 boroughs during a first trip (and because there are not necessarily things to see everywhere). During a first stay, it is more reasonable to focus on discovering Manhattan (which has many of the most popular attractions) while keeping some time to visit a few places in Brooklyn or Queens.
New York City neighborhoods
We will now focus on the main districts of Manhattan. The island has about thirty districts and micro-districts very different from each other. To simplify, here is a map (made by myself) which shows most of Manhattan's neighborhoods: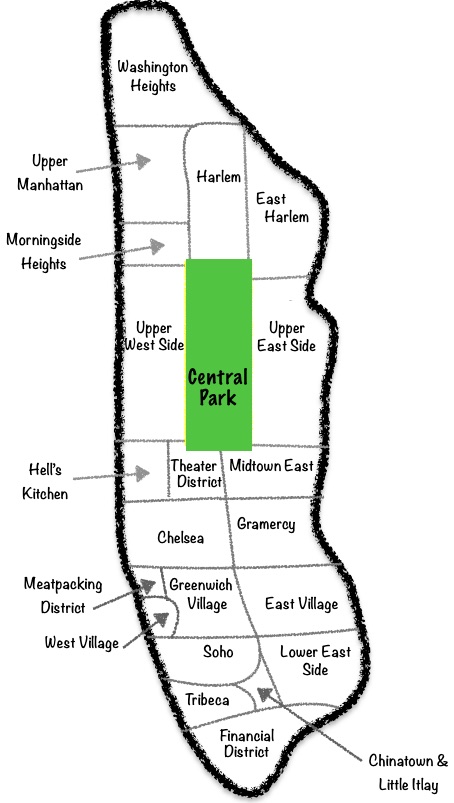 To make it easier, the map has been simplified but it is still a good overview of what you will find in Manhattan. Of course, all the other boroughs of New York City (Brooklyn, Queens etc…) also have their own neighborhoods that we will discover in a future article.
To get a better idea of where neighbourhoods are located in Manhattan, here's how they can be classified:
Uptown neighborhoods

Midtown neighborhoods

Downtown neighborhoods

Washington Heights

Upper Manhattan

Morningside Heights

Harlem

East Harlem

Upper West Side

Upper East Side

Hell's Kitchen

Theater District

Midtown East

Chelsea

Gramercy

Greenwich & West Village

Meatpacking District

Soho

East Village

Lower East Side

Chinatown & Little Italy

Tribeca

Financial District
Good to know:
Most hotels are located between the Financial District and Central Park south. Above this limit, there are also a few hotels on the Upper East Side and the Upper West Side as well as in Harlem, but in much smaller proportion than on the rest of the island.
As I told you earlier, these neighbourhoods are all very different from each other. Some are business districts, some are tourist districts, some are very chic and some are residential.
Here is a small table with the different styles of neighbourhoods in Manhattan :
NYC business districts
NYC chic districts
NYC tourist districts
NYC residential districts
Midtown East

Financial District

Upper East Side

Upper West Side

West Village

Times Square

Lower Manhattan

Midtown

Soho

West Village

Upper East Side

Upper West Side

East Village

Lower East Side

Greenwich Village

Chelsea

Tribeca
It is not easy to make such a classification because many neighbourhoods can be classified in different categories.
Good to know:
Business districts are not necessarily the most lively areas to choose a hotel. The population is very dense during the day and almost deserted in the evening and on weekends.
The best NYC neighborhoods to explore

Often when travelling, we are forced to make choices and select certain activities and neighbourhoods because there is not enough time to see everything we want. This is what happens on each of my trips to NYC, but if I had to select not to be missed neighbourhoods, here are the ones I would choose:
For activities and attractions 
Lower Manhattan and its popular attractions (Statue of Liberty, 9/11 memorial & museum, One world observatory, Wall Street…)

Theater District and the crazy animations around Times Square.

Midtown for its famous buildings and avenues (Empire state building, Rockefeller Center, 5th Avenue…).
For nightlife (bars, clubs, restaurants…)
East Village and Lower East Side, two of NYC most festive neighborhoods.

West Village and Meatpacking District, two trendy districts.

Midtown for great restaurants and rooftop bars.
For shopping
Soho is one of the best shopping districts !

Midtown, especially for 5th Avenue and 34th Street.
That's all you need to know about New York City's neighborhoods before visiting the city. If you have any questions or would like more information on the subject, feel free to leave a comment 🙂