Times Square guide: best things to do, restaurants & places for shopping

It is impossible to go to New York without visiting Times Square! It is perhaps the most famous place in the city, the one you dream about and the one that leaves you with unforgettable memories once you've seen it.
Believe me, you never really forget the energy and effervescence of Times Square once you've seen it. And if the place is so famous, it's for something! Besides the fact that it is one of the most famous places in the world, there are also tons of things to discover in Times Square. The place concentrates a lot of attractions and things not to be missed: stores, restaurants, theaters, animations & entertainment…
In short, if you don't want to miss anything in Times Square, read the following lines carefully 🙂
☞ You should also read: 20+ best New York attractions you really shouldn't miss
Climb the steps of the TKTS kiosk and enjoy the view
This is one of the best places to enjoy a panoramic view of Times Square. If you go up a little bit, you can have better visibility. The crowd seems to be less dense and you can make from this point absolutely sensational pictures of Times Square!
This giant staircase is in fact the roof of a TKTS kiosk that offers tickets for musicals, theater and shows in promotion. Depending on the occupancy rate, you can find very attractive prices even if the majority of the shows offered are not the most famous.
The good news is that you don't need to buy a ticket to enjoy the giant TKTS staircase. Take the opportunity to come and admire Times Square by day AND by night because the night atmosphere is, in my opinion, even more magical and intense than during the day! The kiosk is located on the 7th Avenue, between the 46th and the 47th street.
Another interesting spot to admire Times Square is the terrace in front of the police station located on Broadway, between 42nd and 43rd street. It's nice to come and sit on these tables after dark to watch the frenzy of Times Square that never stops. At night, the screens are so bright that you could think it was daytime!
Say hello to the Naked Cowboy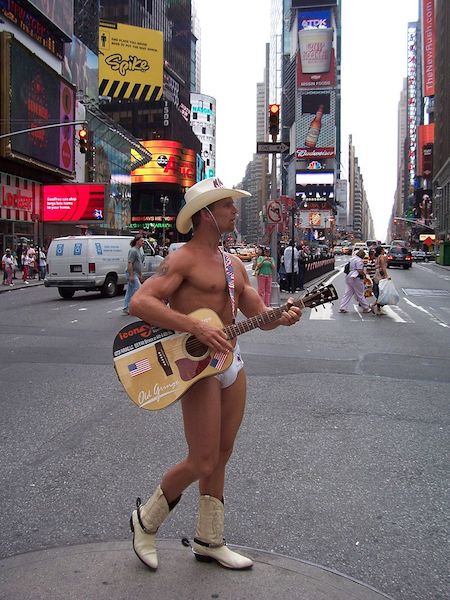 As we all know, Times Square attracts many street artists who offer photos in exchange for a little cash. The most famous street performer of Times Square is by far the Naked Cowboy! This American, street artist since the late 1990s, has become over time a real attraction on his own.
Only dressed in a pair of boots, briefs and a cowboy hat, he roams Times Square (not 365 days a year but almost) with his guitar and plays a few songs to attract tourists. In exchange for a funny picture, you just have to slip a small bill in the cowboy's guitar (or in his underwear!) as a thank you!
Good to know: The Naked Cowboy is never in the same place. He moves around Times Square and we don't always see him.
Enjoy the best stores in Times Square
Times Square is also a place known for hosting some of the most famous stores in the world. We all remember the huge Toys R Us in Times Square, which welcomed millions of visitors for 14 years with its wheel placed in the lobby. Today, the Toys R Us is gone, but there are still many stores to discover! And all of them must respect only one rule: they must be A-MA-ZING!
The iconic stores of Times Square
Here are 3 stores that you will probably never forget. Because they are awesome, they don't look like any other and once inside, you simply feel like you are in a parallel world. Do not miss :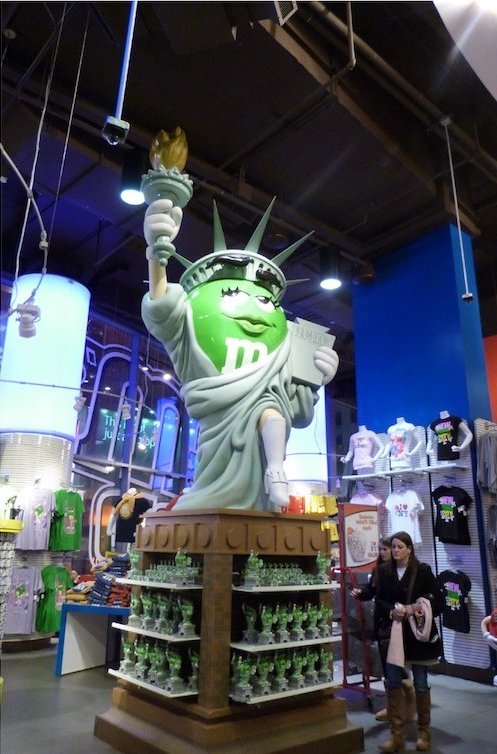 ➜ M&M's World: A gigantic store entirely dedicated to M&M's.
➜ Hershey's Chocolate World: The paradise for chocolate lovers.
➜ Disney Store: Welcome to a magical world, for kids and adults!
The best stores in Times Square for shopping
All the famous brands have their store in Times Square too! Even better, these stores often offer special items or collections that are impossible to find in other stores (even in New York). Here is a (non-exhaustive) list of brands that have a store in the Times Square area:
➜ Foot Locker: The flagship store of the brand, stylish and spacious.
➜ Levi's: Simply the largest store of the brand.
➜ Lids: To find a cap that cannot be found elsewhere.
➜ Champs Sports: A generalist, multi-brand sports store.
➜ For cosmetics and makeup: MAC and Sephora are in Times Square.
➜ For clothes: There are 3 huge stores (among others): Forever 21, Gap and H&M.
This promises to be a great shopping trip!
Visit Madame Tussauds Wax Museum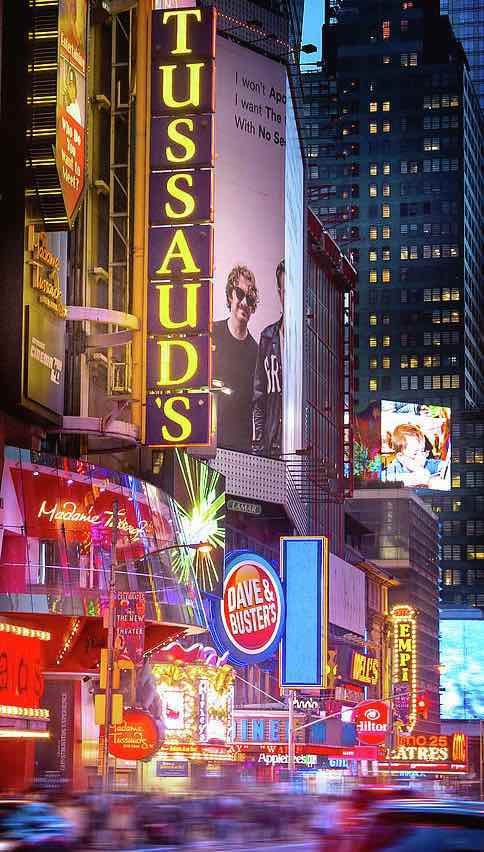 If there is a tourist attraction not to be missed in Times Square, it is the Madame Tussauds Wax Museum! To meet a whole range of stars (in wax!) and have a good time with funny pictures. A must if you visit New York with kids!
Here is a small list (not exhaustive and evolving) of wax stars that we can meet at Madame Tussauds: Marilyn Monroe, Barack and Michelle Obama, George Clooney, Elizabeth II, the Kardashian family, Einstein, Michel Jackson or even Donald Trump 🙂
To avoid queues, it is recommended to buy tickets directly online in advance. GetYourGuide has great rates for Madame Tussaud Wax Museum and you can cancel up to 24 hours in advance if needed.
Book tickets for Madame Tusssauds
Going to see a musical
Because Times Square is also and above all the theater district! There are dozens of theaters spread over a few blocks and it is here that you can see the most famous musicals of New York City! The most popular shows of the moment are :
➜ Aladdin
But also some classics like:
➜ Chicago
➜ Wicked
You can also see in Times Square the famous Blue Man Group show or the play Harry Potter and the Cursed Child.
You will find all the information and tickets by clicking directly on the show that you are interested in 🙂
The iconic restaurants of Times Square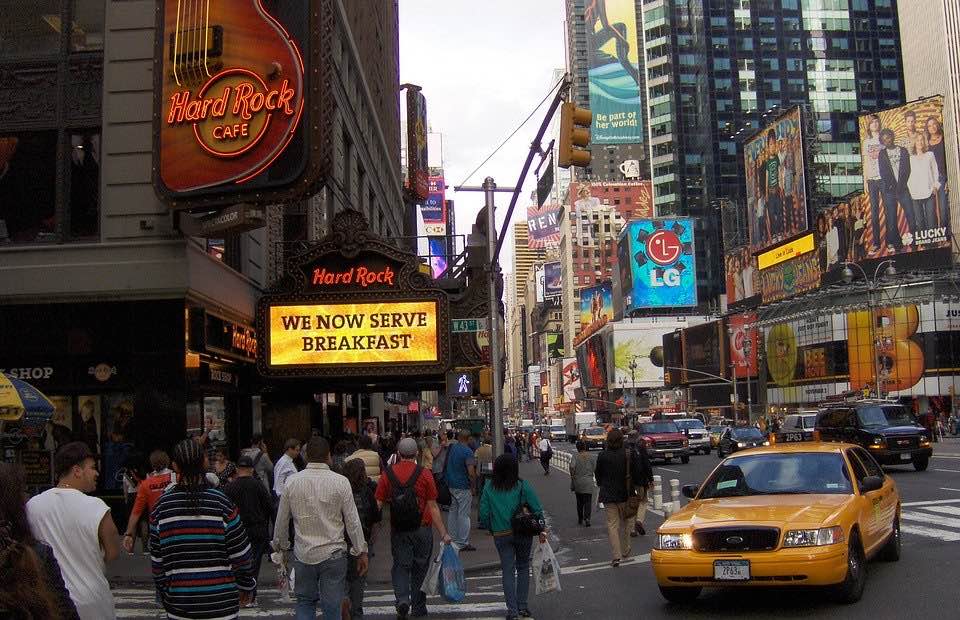 Times Square is also full of famous restaurants. Emblematic addresses often open for many years! Here they are:
➜ Hard Rock Cafe: A classic place to eat a good US meal in a musical and festive atmosphere. Beware, this Hard Rock Cafe is very crowded, it is really advised to reserve your table in advance on the restaurant's website.
➜ Bubba Gump: The famous seafood chain inspired by the movie Forrest Gump.
➜ Ellen's Stardust Diner: Welcome to the craziest diner in New York City where the waiters sing while serving. A real show during the meal!
➜ The View Restaurant: This restaurant like no other is known for offering panoramic views of New York City thanks to its rotating platform. Within an hour, the restaurant makes a complete rotation on itself, allowing you to enjoy the city from all angles.
My favorite restaurants in Times Square
➜ Carmine's: An Italian restaurant I've been loyal to since my very first trip to New York! The portions are gigantic and the food never disappoints.
➜ The Counter: A burger place I really like, that allows you to create a 100% custom burger! Grab a card at the entrance and choose between all the options available to you: bun, meat, toppings, cheese, EVERYTHING is to choose!
➜ Red Lobster: Another place I really like, more healthy, to eat something other than burgers. Red Lobster offers a seafood menu whose great specialty is… lobster!
Some practical tips to discover Times Square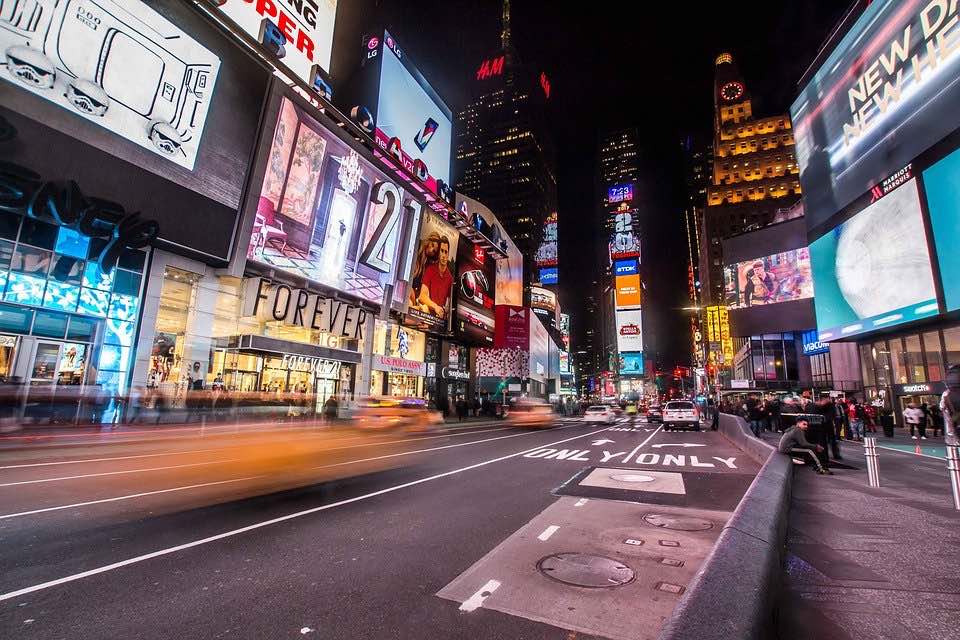 You have probably understood it: Times Square is finally much more than a simple crossroads as it is often seen on television. Times Square is in fact a real district that concentrates on a few blocks, a concentration of crowds, stores and restaurants as it does not exist anywhere else. Globally, we can delimit the area of Times Square going from :
41st Street to 49th Street
Between Broadway, 7th and 8th Avenue
The area of Times Square is therefore rather large. Even if the famous crossroads so often seen on TV is located precisely at the intersection of Broadway and 7th Avenue. Exploring Times Square requires time if you don't want to miss anything (stores, restaurants, attractions…). For example: you can go there several times during your stay, day and night, to vary your discoveries.
Times Square Map
That's it! If you still have questions about Times Square, you can ask them in the comments, I will be happy to answer them 🙂