▷ Shake Shack: a must-try burger in New York City

Let's talk today about a very serious subject: burgers! Because when you travel to the United States, you absolutely MUST eat them. Today I'd like to talk to you about Shake Shack, a chain that has become absolutely iconic in New York City in the last few years! And if, like me, you come from a country where Shake Shack is not yet established, here is the perfect opportunity to do so!
Founded in 2004, this burger chain has since opened many locations in New York, in the United States (but also across the world!). So why are Shake Shack burgers so popular? Is Shake Shack the best burger in town? I'll let you discover my complete review just below… Beware, you'll be salivating!
Shake Shack: a 100% New York City chain
The very first Shake Shack to have opened its doors is located in Madison Square Park, right next to the famous Flatiron building, the oldest building in NYC. So here we have a real New York burger! And honestly, the bucolic atmosphere of the little Shake Shack kiosk in Madison Square Park is really worth a visit.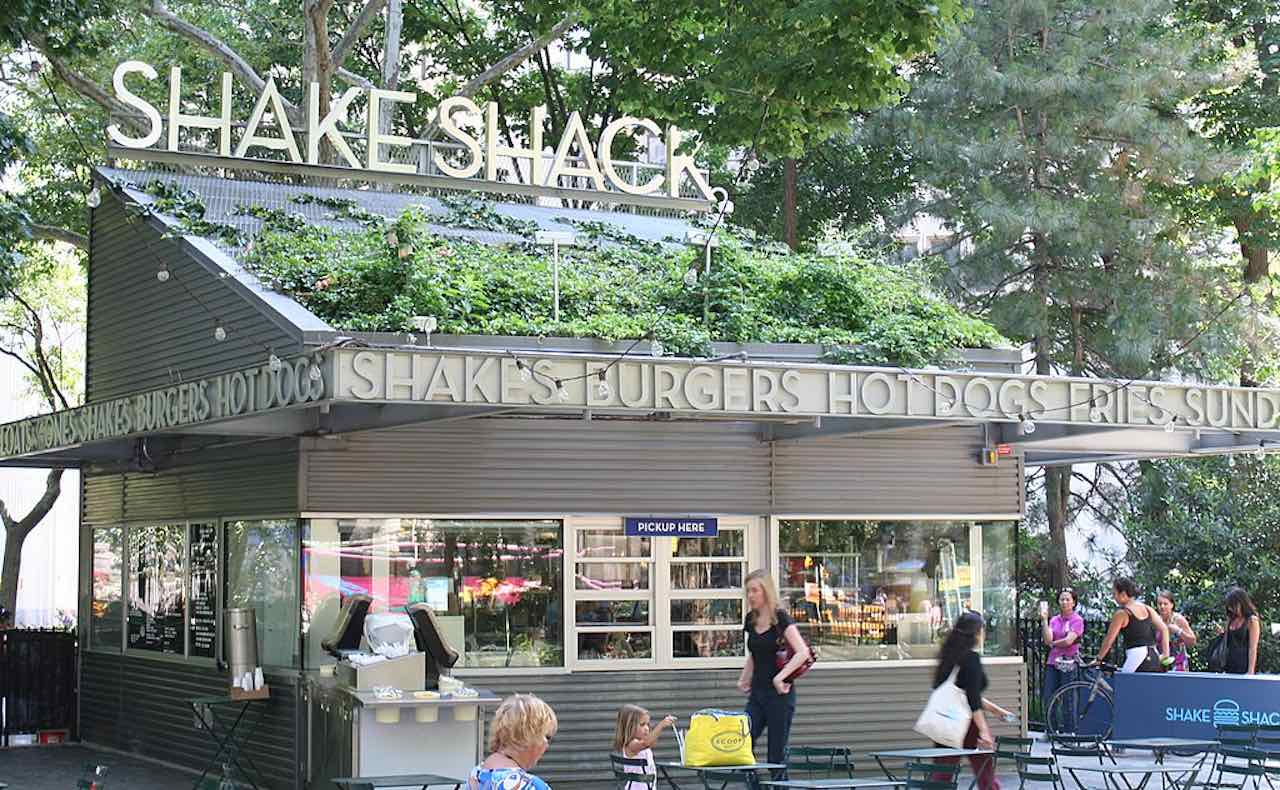 If you have to eat only one Shake Shack during your stay in New York, it must be this one! But there are now about 20 other locations all over the city (including Times Square, Grand Central, Bryant Park, Brooklyn etc.). You can quickly find them on the Shake Shack official website.
By the way, if you are in Madison Square Park during the opening hours of the fast food restaurant, you will quickly notice the line that goes through the alleys to the Shake Shack kiosk! Beware, on weekends, this line can be particularly impressive. Fortunately, they are used to their success and the wait is always reasonable. It is well known, to enjoy the best addresses in New York, you have to wait a little! That leaves us plenty of time to look at the menu 🙂
Once the order is placed, you just have to choose a bench in the park to enjoy your meal or sit on one of the large terraces around the kiosk.
Shake Shack menu : burgers, hot dogs, fries and ice cream
The menu offers the great fast food classics: burgers, hot dogs, fries, ice cream, shakes and drinks at very affordable prices. But above all, at Shake Shack, we don't skimp on quality!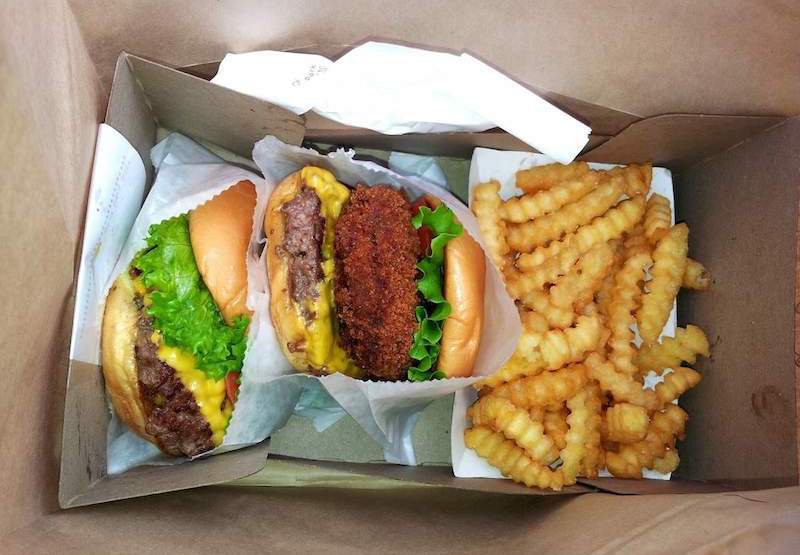 The beef used for the burgers is guaranteed 100% Angus, without hormones or antibiotics. The brand also differs from others by offering homemade drinks, to vary from the traditional sodas. Finally, vegetarians are not forgotten and can enjoy an excellent burger topped with a crisp-fried mushroom heart…
Let's be honest, we don't really go to Shake Shack to eat healthy… Here, the burgers are generous and juicy. And that's what we come here for, right?
My favorites at Shake Shack
After many trips to New York City and a number of meals at Shake Shack, here are my favorites from the menu:
➜ The ShackBurger: Shake Shack's signature burger. A double cheeseburger with classic ingredients but an absolutely unique taste!
➜ The Shack Stack: A cheeseburger that hides a crispy-cheesy mushroom heart. Available in a 100% vegetarian version or as a classic burger with a steak.
➜ Cheese fries: A good portion of fries covered with melted cheese. Bonus for the Shake Shack fries, which are curly and always remain crispy.
➜ Homemade drinks: Lemonade or iced tea, classic but still good!
Following your order, you will receive a beeper. Once your order is ready, the beeper will vibrate to inform you to go pick it up at the counter.
Shake Shack: the best burger in New York City?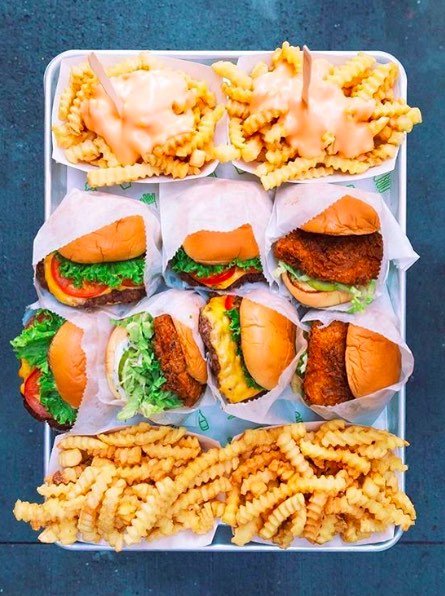 I hope you've figured it out: Shake Shack is heaven!
The bread is toasted and soft, the meat is juicy and perfectly cooked, the sauce is delicious… In the fast food category, Shake Shack ranks very high. It is one of the best fast food burgers I have ever tasted. And once you've tried it, it's hard not to go back!
So it is indeed one of the best burgers in New York City… But it is not the only one! During your trip, you will have no other choice than to try THE big rival of Shake Shack in the United States: Five Guys, also very famous and very popular.
My favorite Shake Shacks in NYC
Here is a small compilation of the best Shake Shack to discover in New York or simply, some of the best placed:
➜ Obviously in first place, THE very first Shake Shack of the chain, still located in Madison Square Park. To be done on sunny days to enjoy your burger quietly sitting on a bench in the park.
➜ Shake Shack in Battery Park City (Lower Manhattan). The restaurant is located in a pedestrian area with a large covered terrace. The atmosphere is quite relaxed, especially in the evening.
➜ Brooklyn Bridge Shake Shack. Located just a few meters from the Brooklyn Bridge park that allows you to admire the famous bridge and the entire New York skyline. This is simply one of the most popular Shake Shack location in the city, but also one of the most visited! You can enjoy a beautiful walk in the park before or after eating or even take your Shake Shack and enjoy it in front of one of the most beautiful views of the city.
And now, I just have to wish you a very good appetite at Shake Shack! 🙂