▷ What to see at the Chelsea Market, the NYC's iconic indoor market

Let's go today to discover one of my favorite places in New York City: the Chelsea Market! This indoor market built in a former Oreo factory, is one of the best places in the city to eat, shop or just walk around! The rehabilitation and the decoration of the place are a real success: bricks, industrial materials, chic stores and trendy atmosphere give a real charm to Chelsea Market.
Surprisingly, this was one of the very first places I visited in NYC on my first trip. Immediately, I loved the atmosphere and it's now every time a great pleasure to go there again! So, to prepare your visit and not miss anything, I suggest you to find just below my best of the NYC Chelsea Market 🙂
Chelsea Market, the NYC's iconic indoor market
The Chelsea Market has about forty stores and restaurants. If the food holds a very large place inside, the rest of the stores is globally dedicated to the souvenirs and gifts to bring back from a trip to New York.
This is where you'll find some of the best souvenir stores in the city, including the renowned Artists & Flea, a small New York designer market. If you're looking for original creations to bring back from NYC, the Chelsea Market is definitely the place to go.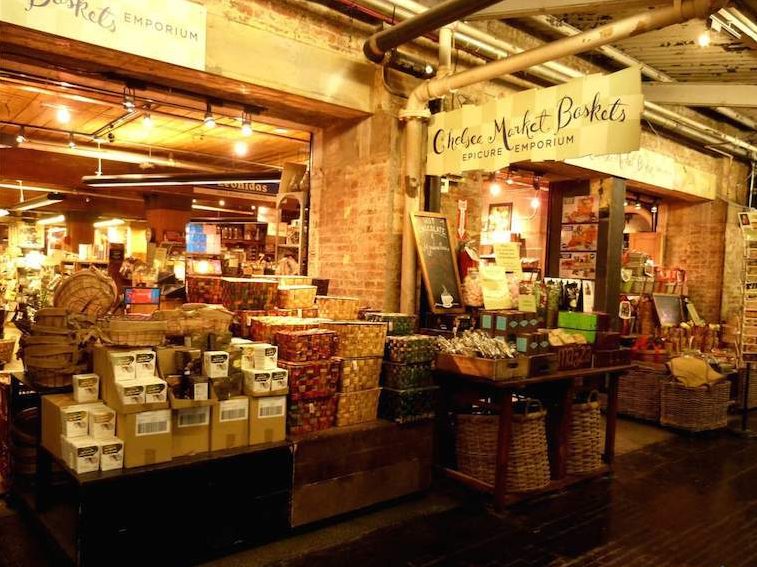 But you can also eat well at the Chelsea Market. Most of the restaurants have little stands where you can buy food to eat in or take away. Pastry shops, delicatessens, restaurants & kiosks, there is something for everyone!
You can sit down to eat wherever you want, there are many tables and/or benches available. Otherwise, the High Line (a beautiful suspended walkway) is located a few hundred meters away. It is also possible to take your meal outside and enjoy one of the most beautiful views of the city!
My favorite restaurants and places to eat in the Chelsea Market
Here's a little compilation of the best places to eat at Chelsea Market.
     ➜ Lobster Place
An absolutely iconic address in New York (opened in 1974!) and simply one of my favorite addresses in NYC for sushi and lobster. In this huge fish shop, you first meet the locals who come to shop for fish and other shellfish. But you can also enjoy yourself! Many come for the oyster bar or for the sushi (absolutely divine and extremely fresh).
We also finds shelled lobster claws, cooked whole lobsters and the famous Lobster Rolls, small sandwiches with lobster to eat absolutely if you do not know them!
     ➜ Very Fresh Noodles
Do you love Chinese noodle dishes? Then you're in the right place! With a name like that, we're almost salivating in anticipation! To our delight, the noodles are made right here in front of our eyes before going straight to our plates.
Here, we serve traditional recipes only based on Chinese noodles: cooked dishes & soups, in classic version but also available in vegan version. Beware, for the most adventurous, the spicy recipes are really spicy !
     ➜ Doughnuttery
Here is now a real paradise for the addicts of… donuts! This typically American pastry (which can also be spelled doughnut) is of course homemade and I can tell you that you quickly notice the difference with the industrial donuts you find elsewhere!
Here, they serve a lot of flavors (fun fact, not necessarily with a hole in the middle !). For the gourmands who don't want to make a big break in their diet, you can also taste them in mini version (bites) for a small snack not so catastrophic 🙂
     ➜ Los Tacos No.1 and Los Mariscos
We are now boarding for Mexico! This is indeed all the magic of the Chelsea Market that allows you to go from one atmosphere to another in an instant… Here we find two distinct addresses managed by the same company: Los Tacos No.1 and Los Mariscos.
In both shops, you will enjoy homemade tortillas  which will be used to make the great classics of Mexican food: tacos and quesadillas in a classic version at Los Tacos (with meat… or cactus for vegetarians!) or in a seafood version at Los Mariscos (with fish or shrimps).
⚠️ Good to know: Watch out for the hours of the restaurants / bars / fast food stands in the Chelsea Market. Many close early in the evening and there aren't many choices for evening dining in the Chelsea Market. Most places serve all day long and most close between 5pm and 7pm. Evening is not the best time to discover the frenzy of this place. It's better to do it during the day, to make the most of it!
My favorite shops at the Chelsea Market
Most of the stores in the Chelsea Market are great spots to bring back authentic New York souvenirs. Especially if you're looking for quality stores, you'll have plenty to choose from!
     ➜ Posman Books
A bookstore with a very nice selection of cookbooks. Among them is the famous Chelsea Market Cookbook, the recipe book directly inspired by the market.

     ➜ Chelsea Market Baskets
A gift store full of cool ideas to bring back from New York. There are many delicatessen products or items for the home. From sweet to savory to world products, there is something for every taste and price.
     ➜ Artists & Fleas
Best for last, the place where I could stroll for hours and get ruined very easily! This is the open space dedicated to artists, stylists and designers who offer products full of NYC originality.
Why you shouldn't miss the Chelsea Market in New York City
As I told you above, the Chelsea Market is really one of my favorite places in New York. It is a place where it is always good to come back even after several trips. You can eat really well there and you can find a lot of nice souvenirs. The place is very lively all day long, and sometimes even crowded on weekends (like all the good places in NYC!).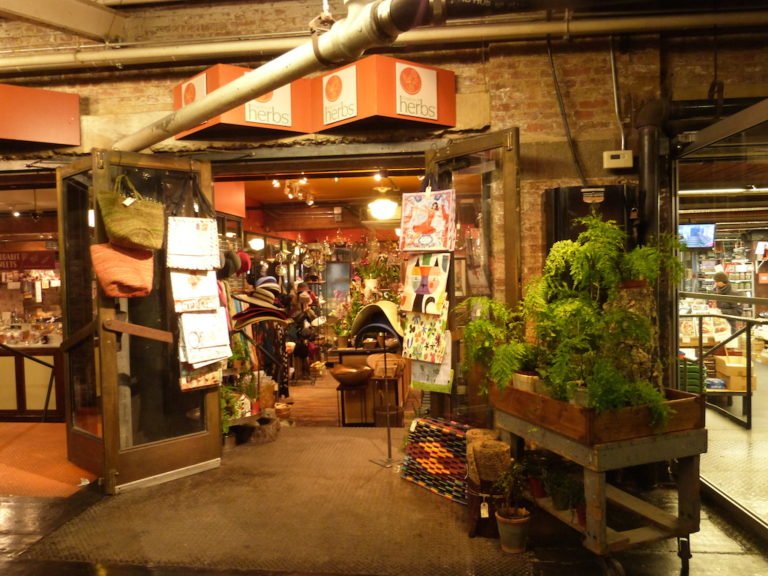 The atmosphere and the decoration also have their importance: everything is well chosen at the Chelsea Market and we dive into a real post-industrial world based on bricks, steel, waterfalls, light effects… We almost forget that we are in the center of New York City!
     ➜ Chelsea Market hours
From Monday to Saturday: from 8am to 9pm.
Sunday: from 8am to 8pm.
But beware, as in any shopping center, each store inside has its own hours and is not necessarily open at the same time as the gallery.
___________
That's it! I hope this article will make you want to discover all the good places in theChelsea Market. If you have any questions about this unique place, don't hesitate to ask them in the comments 🙂